Get online with Eduroam
Register for a REMOTE ACCESS account at:
https://register.it.ox.ac.uk/self/remote_access
Download the Eduroam Configuration Assistant Tool (CAT):

You will then be presented with various installers – choose your operating system
Once the installer has downloaded run the installer program
When prompted for username and password make sure you append @OX.AC.UK to your username (example – unit1234@OX.AC.UK)

It is very important that your username is entered in this format for Eduroam – unit1234@OX.AC.UK  (lowercase@UPPERCASE).
The character case does not matter for other University web services like your email, but it does for Eduroam. 

Once installed (and you are within range of an Eduroam Wireless network!) you may be prompted to enter your user credentials again – as a final security check.
Your computer / device will now remember your password, so you don't have to keep typing it in.
---
Manually setting up Eduroam
Sometimes the Eduroam CAT doesn't work for some smartphone devices. So here are some instructions for setting up Eduroam manually.
---
Useful tips
REMOVE existing Profile

Sometimes the Eduroam CAT doesn't always take and you cannot connect to Eduroam properly. You will then need to remove the Eduroam network and start again.

iOS devices – Settings > General > Profile > eduroam > Remove Profile
Android devices (depending on age of operating system)

Settings > Connections > Wi-Fi > three vertical dots > Advanced > Manage Networks > Then forget the eduroam network

or Settings > search for Manage Networks > Then forget the eduroam network

REMOTE ACCESS credentials
You need to know your REMOTE ACCESS password – this is NOT your SSO password! If you have not created a REMOTE ACCESS password yet, then you can do so from this website: https://register.it.ox.ac.uk/self/remote_access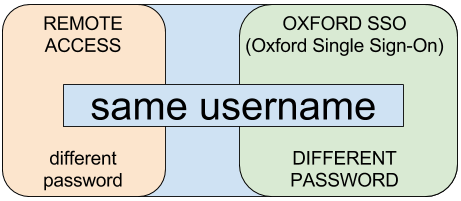 Apple iOS devices

Use the iOS Safari web browser to download the Eduroam CAT

other iOS web browsers don't know what to do with the downloaded configuration file.

Android devices

Windows and macOS
Learn more
Learn more about Eduroam from the University of Oxford IT Services website