You have two major IT accounts in Oxford.
OXFORD SSO (Single Sign-On)
Both OXFORD SSO and REMOTE ACCESS accounts can be activated online BEFORE you arrive in Oxford.
---

1. OXFORD SSO
Your OXFORD SSO account is used for all web based resources within the University and College, including your University email (Nexus365), VPN, Canva, Sharepoint and booking meals in College.
An ACTIVATION CODE for your OXFORD SSO account is sent to the email address stated on your University application form. NB – If you haven't received your Activation Code then first check your Junk Mail folder; if you still cannot find the code then let us know.
Once you get your ACTIVATION CODE you can activate your OXFORD SSO account.
Steps to activating your OXFORD SSO:
First read IT Service's web page about activating your account
Then read about Multi-Factor Authentication (MFA)
Now activate your OXFORD SSO account

Enter your:

Lastname
Date of Birth and
University Card Barcode or Student number

Enter your OXFORD SSO username
Enter your Account ACTIVATION CODE
Set a Security Question
Set a strong password (recommended at LEAST 16+ characters)

We recommend three or four shortish random words

eg – Pineapple.Turnip.Window2021
Obviously do NOT use the password above for YOUR password!
---

2. REMOTE ACCESS
Your REMOTE ACCESS account is used to connect to the wireless and wired networks.
!!TAKE NOTE!! Your REMOTE ACCESS and OXFORD SSO share the same username, BUT MUST have different passwords.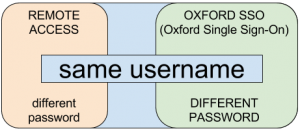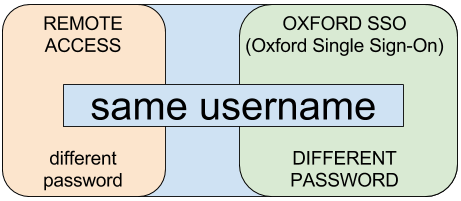 Once you have activated your OXFORD SSO then you can register for a REMOTE ACCESS account at : https://register.it.ox.ac.uk/self/remote_access
You should register for a REMOTE ACCESS account before coming to Oxford.
---

3. PASSWORD EXPIRY
OXFORD SSO password – renews every year.
REMOTE ACCESS password lasts for several years – generally until your University Card expires.
For Undergraduates this isn't an issue, but for Academics and Staff, or students who are continuing with a new course, they will need to arrange a University Card renewal – and along with this they will need to set a new REMOTE ACCESS pass.
You can check your REMOTE ACCESS (and OXFORD SSO) password expiry dates on the IT Services Self-Registration website.
It is also handy to check this website for when you have received a potential phishing email stating that your password is going to expire!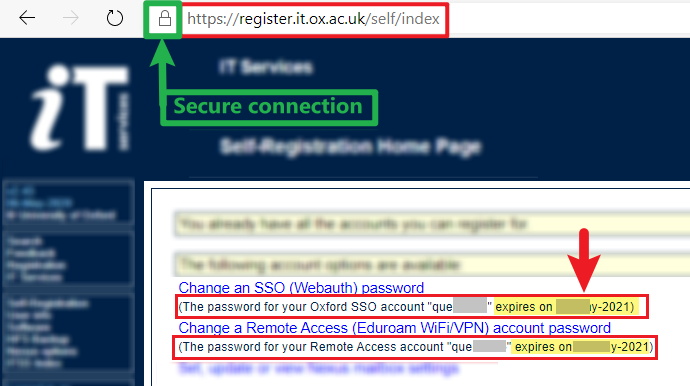 ---

4. CHANGING PASSWORDS
If you need to change your password at any time – whether that is part of your annual renewal or you just fancy a change – you can change it at the following University website called Webauth.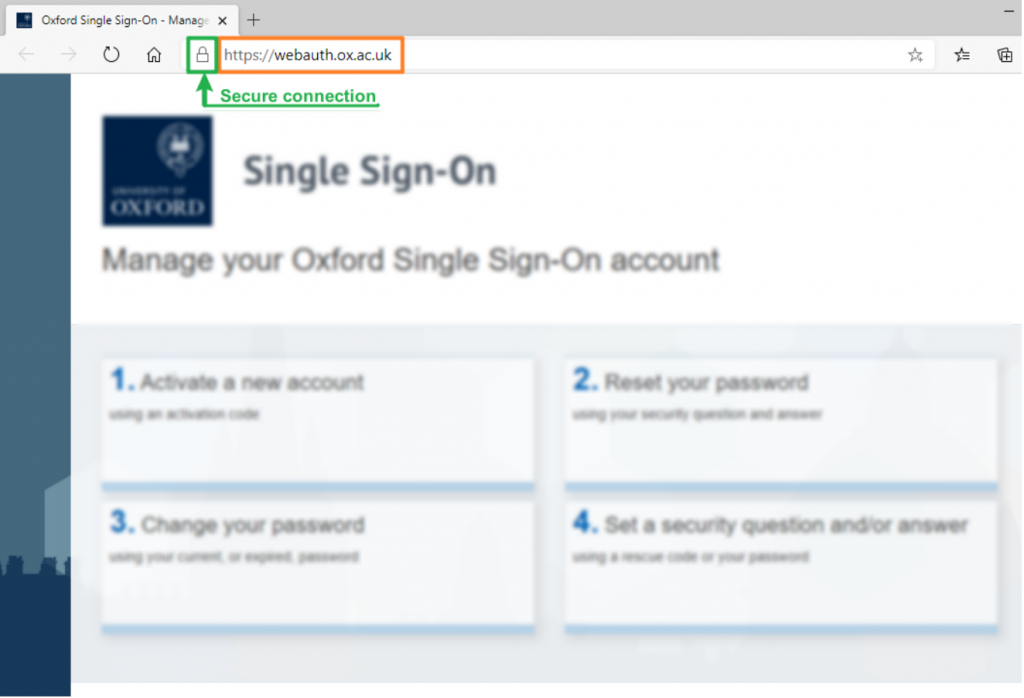 5. PASSWORD MANAGERS
Consider using a Password Manager which you can install on your computer and smartphone. Not only is it a good place to keep your passwords secure but a Password Manager will allow you to maintain longer passwords AND are associated with the correct web address. This means if you go to a fake website then the password manager would not provide you with the password as it does not recognise the website address.
Look at 1Password, BitWarden, KeePass, DashLane, LastPass and many more – for a valuable resource you can learn more about Password Managers at https://www.passwordmanager.com and their list of Password Managers based on research and reviews – https://www.passwordmanager.com/best/