Below are some links and resources to help settling in to remote working.
Oxford University IT Learning Centre
A great place to start:
Want to improve your personal productivity or learn new skills? – Getting Started with LinkedIn Learning
You MUST be signed in to LinkedIn Learning BEFORE going to the links below otherwise you will get 404 Page not found!
Microsoft Teams
You do not need a TEAM to use Teams – Microsoft Teams – explaining the confusing naming convention
Apple and Microsoft products – HE discounts
Available to students and staff with University email account
Higher Education discounts on Apple and Microsoft products – https://theEDUstore.co.uk
Apple student discounts via their portal – UNiDAYS
Chorus Phones
From the Chorus handset you can configure your number to be forwarded to your home or mobile number
If you are away from your handset then it is possible to setup a forward remotely, however, the feature must be enabled on the extension by the Chorus team before you can use it.
Environment
Are you sitting comfortably?
It is going to be difficult to get the correct sitting position when working from home on a borrowed laptop when you don't have a dedicated space. Below is the ideal environment – but not everyone will have the luxury of a dedicated working study desk at home.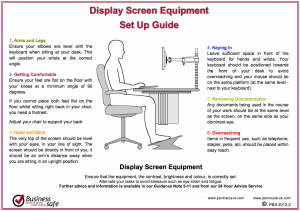 Practical Tips for Remote Working
Here are a few tips you can use to make remote working a little easier on yourself.
Create a schedule and plan regular breaks
Take regular breaks
Try and use a separate full size keyboard and mouse rather than your laptop keyboard all the time
Raise the laptop screen – together with a separate keyboard and mouse – to reduce neck strain

Better still – if you have the space – invest in a separate monitor

Take regular breaks
If you don't have a dedicated home office workspace then try working in different locations.

kitchen table (for research so you can spread books out)
sitting on the sofa (for reading articles)
out in the garden with printed worked – or just take a break

Make a video call to a colleague who is also remote working
Other useful guides
Foreign Travel