QC-MyRoom (Cloudpath)
You may have noticed a couple of new Wireless networks – QC-MyRoom and QueensOnboard.
QC-MyRoom is the College's implementation of a branded product called Cloudpath by Ruckus. The system will enable us to provide you with your own private network allowing you to connect your wireless devices in your room so they are part of a personal network which only you have access. Some examples of how we think this will improve your Wi-Fi experience are:
printing to your personal wireless printer in your room while in the College library;
connect your wireless games console to the Internet rather than having to use an Ethernet cable;
connect a smart light bulb or Amazon Echo so only you can control it;
these should all now be possible.
And QueensOnboard is the wireless network to which you connect in order to setup your unique personal password for your QC-MyRoom network.
Please Note : QC-MyRoom is provided by the same wireless infrastructure within College buildings. There is no advantage to using QC-MyRoom rather than Eduroam. QC-MyRoom is a College based system for accessing your personal wireless devices as if you were at home. If you do not have any other devices then there is no advantage over using it or Eduroam.
Cloudpath creates a unique wireless password, which is linked to you, and will follow you anywhere Queens Wi-Fi is installed; Main College, Carrodus, St Aldate, etc
Note: This network is linked to you, via your unique Wi-Fi password, and you alone are responsible for any network activity.

As such you should NOT share your Wi-Fi password with anyone else
---
Four Steps To Your Own Network
Step 1:
Either go to:
or if you are in a College building, connect to QueensOnboard Wi-Fi network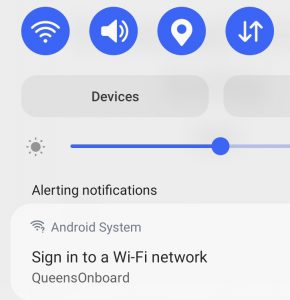 When you connect to QueensOnboard your device should ask you to sign into the network
Clicking on the Sign in message or clicking the above link will take you to the Start Page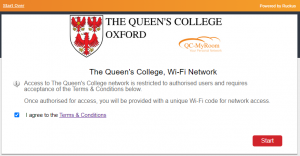 Read the Terms and Conditions, tick the box and then Click Start
---
Step 2: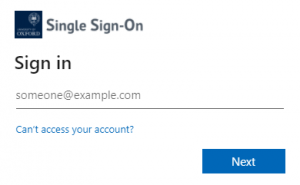 Now Sign in with your Oxford SSO (Single Sign-On)
(username format – unit1234@ox.ac.uk)
---
Step 3: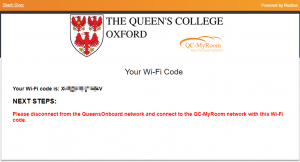 Once signed in, you will be shown a page with your unique personal Wi-Fi password.
You will also receive an email with the Wi-Fi password. This email will arrive from: Cloudpath Support <cloudpath@commscope.com>
(If you do not receive a confirmation email then check your Junk Mail folder.)
---
Step 4:
Connect to QC-MyRoom and use the Wi-Fi password provided in step 3 above for all your wireless devices.