You can get online via wireless or wired connection but both need REMOTE ACCESS credentials.
Your REMOTE ACCESS account and OXFORD SSO (Nexus) account share the same username, BUT, they MUST have different passwords.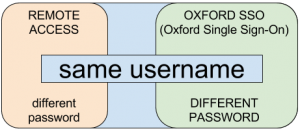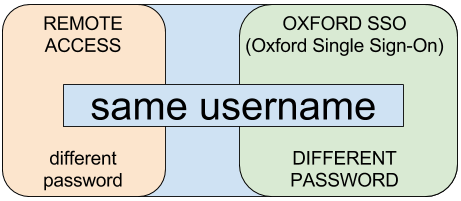 Register for a REMOTE ACCESS account at :
https://register.it.ox.ac.uk/self/remote_access
You can register for a REMOTE ACCESS account before coming to Oxford. You can also get to the above REMOTE ACCESS registration page by connecting to the OWL wireless network and then opening a web browser.
---
The College offers two wireless networks – Eduroam and OWL (Oxford Wireless LAN).
Eduroam is an international federation of academic institutions which allows its users to visit other participating institutions and use the same username and password as they would use at their home institution. Eduroam is available throughout Oxford Colleges and Departments and some 6,000 other "hotspots" world wide.
OWL (Oxford Wireless LAN) is an Oxford only network and requires a Cisco VPN client to be installed on your computer.
Learn more about wireless network access
---
Wired network access is available in College. Your computer must authenticate with the network using your REMOTE ACCESS credentials. You will need to make some configuration changes to your computer to enable the 802.1x service.
Learn more about wired network access
---
When you are away from Oxford you can use the Cisco VPN software to access Oxford specific sites and services. For instance from your home broadband or an "insecure" coffee shop or overseas Internet café. You can use VPN to give you a more trusted connection into the Oxford network or simply to access certain "Oxford University ONLY" services.
Learn more about the IT Services VPN Service – http://help.it.ox.ac.uk/network/vpn/
---
Part of the Modern Languages and Law courses include a year abroad. If you need to access Oxford only resources whilst overseas then you will need to use VPN software to connect back into Oxford.
---
The College has a several Graduate properties which use third party Internet providers for Internet access. If you are having issues with your College Broadband then please let the IT Office know.
---
If you have a games console then you will need to register it with IT Office manually.
Learn more about registering Game Consoles