EMAIL FOR EVERYONE
Every member of College has an Oxford University email address which is managed by the Oxford University's IT Services staff but is hosted by Microsoft as part of a University wide Office365 subscription.
The Oxford email system is referred to as Nexus365 and provides users with email (50GB storage), Microsoft Office Apps (Word, Powerpoint, Excel, Outlook) and Microsoft OneDrive online storage (up to 5TB).
---
OXFORD SSO (Single Sign-On) ACCOUNT
Your Nexus365 email account uses your OXFORD SSO credentials. Your OXFORD SSO account is used by many online services within the University and within College.
UNDERGRADUATES – You should have received your OXFORD SSO account details in your Freshers Packs in August.
GRADUATES – Your OXFORD SSO account details will be given to you when you pick-up your University Bod card from the College Office.
To activate your OXFORD SSO account or to reset a forgotten password visit – https://webauth.ox.ac.uk/
Major Gotcha – The Microsoft Sign-in page asks for your email address or phone number. This does not work!

Use your OXFORD SSO username followed by @OX.AC.UK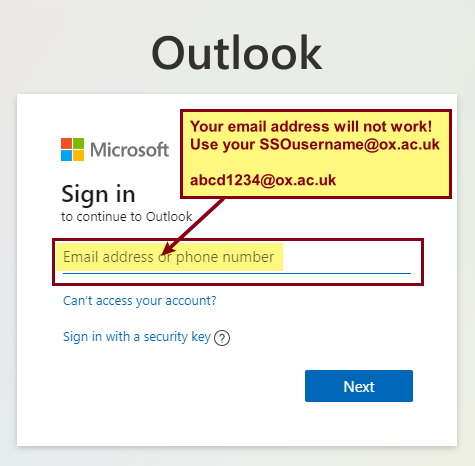 ---
READING YOUR EMAIL
You can read your Nexus365 email via a web browser from:
https://outlook.office.com/ox.ac.uk
… or you can use an email client (eg Outlook or Mac Mail)
… or with a smartphone
Learn more about what Nexus365 has to offer visit:
https://help.it.ox.ac.uk/nexus365/index
---
PREFERRED NAME FOR EMAIL
A person can change the preferred form of their email address, but the University does not offer permanent multiple forms of the person's name, ie you cannot have Stephen AND Steve.
If you need to change the Display Name and/or email address (eg Elizabeth is known by everyone as Beth), then you can request a change by emailing it-support@queens.ox.ac.uk FROM your Queen's email address. This should not be seen as an open invitation to use Nicknames or Family "Pet" Names – the new email address must still be identifiable as you.
---
SIGN UP EMAILS ABOUT JCR & MCR EVENTS AND NEWS
MCR members can self-subscribe to the main MCR list by sending a blank email to: queens-mcr-l-subscribe@maillist.ox.ac.uk
​JCR members can self-subscribe to the main JCR list by sending a blank email to: queensjcr-subscribe@maillist.ox.ac.uk
Undergraduate International Students at Queen's can subscribe to updates from the JCR International Representative.
LGBTQ+ at Queen's can subscribe to information from the College's LGBTQ+ Student Representatives
---
EMAIL PHISHING
– DON'T GET CAUGHT OUT
Learn what Phishing is and what to do if you receive a phishing email.
https://it.queens.ox.ac.uk/email/phishing/
---
Email Rules – the art of automation
Learn how to automate your inbox so you can keep the important messages and clear the spam
https://it.queens.ox.ac.uk/email-rules-the-art-of-automation/
---
Accessing Nexus365 delegated Secondary (Project) Account
There are many shared 'Secondary' accounts in college for various departments and sections. If you have a college owned computer then any shared email addresses that you need will appear automatically in Outlook. However, some academics have College roles and will need access to these Secondary accounts; below is a brief explanation of Secondary accounts and how to access them.
Secondary (Project) accounts are email accounts which several people in a shared office have access. Users with delegated access can read messages in the shared email account using their own username and password; the actual shared mailbox credentials are never known by the user. If you have been given access to a Secondary account, then you can configure your smartphone to access the email account using the instruction here – https://it.queens.ox.ac.uk/email/nexus365-secondary-project-account/
---
Calendars
Nexus365 includes a Calendar which you can use for your appointments and meetings: https://outlook.office.com/owa/?path=/calendar
Internet Calendar Subscriptions
There are also some calendars which include useful dates like the Oxford Term Dates and College Committee Dates. These are known as Internet Calendar Subscription (ICS) and you can learn more about them and how to access them here – https://it.queens.ox.ac.uk/help/calendars-internet-subscription/
Sharing your Nexus365 Calendar
If you need to share your calendar so that someone else can view / add / remove calendar entries, then look at our guide – Share your Outlook calendar