Effective from 22 February 2023.
Number matching will be added to the Microsoft Authenticator app used for multi-factor authentication (MFA).
A new security feature called "number matching" will be introduced to the Microsoft Authenticator app. If you use this app for your MFA you will notice this change from 22 February 2023.
If you use a different authentication method like SMS or the Authy app then these are unaffected.
To learn more about the security update to Microsoft Authenticator visit the IT Service website – https://www.it.ox.ac.uk/article/mfa-authenticator-app-update
---
When you log in with your OXFORD SSO (Single Sign-On) you will see a number on the SSO screen which needs to be typed into the app to complete the approval process for your MFA.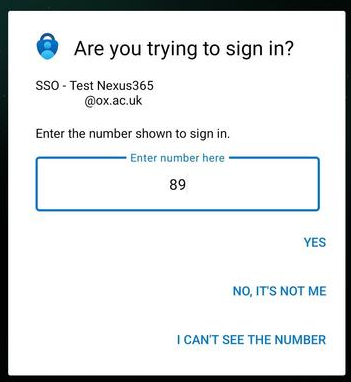 Full details of this change, including instructions of what to do, are available on the IT Services website. This added security applied by Microsoft will help to keep your data safe. Other authentication methods like SMS and Authy are unaffected.
For general information about MFA, including where to get help, visit the MFA page on the IT Help website.