If you have an Apple Retina Display and need to clean the screen please read on.
The photo below shows a MAC retina display which had been submitted to Apple for a warranty repair with a screen lamination/glue issue. Apple advised that this issue has been seen on a number of occasions by them and a full investigation carried out. The cause has been identified as use of non approved cleaning chemicals/procedures and is therefore classed as accidental damage and not covered by warranty. The cost of a replacement will be around £600.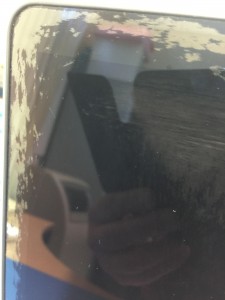 Apple advise the following for cleaning your Apple products:
Use only a soft, lint-free cloth. Abrasive cloths, towels, paper towels, and similar items may cause damage to the item.
Disconnect your Apple product from any external power sources.
Disconnect any external devices and other cabling from the product.
Keep liquids away from the product.
Don't get moisture into any openings, and don't use aerosol sprays, solvents, or abrasives.
Do not spray cleaners directly onto the item.
Note: If liquid does make its way inside your computer, seek assistance from Apple or an Apple Approved repairer as soon as possible. Liquid damage is not covered under the Apple product warranty or AppleCare Protection Plans.
Click here for more information in our post about how to minimise liquid damage.