We have received reports from some people that there are issues with the built-in VPN on Mac OS X (specifically El Capitan) and OWL.
I have done some testing in College and confirm that, when using the built-in Mac OS X VPN on my 10.11.3 El Capitan computer, some web pages do not load but others do!
[Update – El Capitan 10.11.5 – the built-in Cisco VPN now works again – yeah!]
Colleagues from other Colleges in Oxford have experienced no problems but then others have. It all seems a bit random at the moment – certainly not "Computer Science" more "Computer Dark Arts"! 🙂
I have been advised that the Cisco AnyConnect Client for macOS will solve the problem. You can download the Cisco AnyConnect VPN Client for macOS here – https://register.it.ox.ac.uk/self/software?swp=vpn
NB – By default the Cisco AnyConnect Client for macOS will install three optional modules:
Web Security

Diagnostics and Reporting Tool (DART), and

Posture
It is recommended that you :
un-tick Web Security

un-tick Posture modules
during installation as they are not needed (the Diagnostics and Reporting Tool can be useful in the case of problems).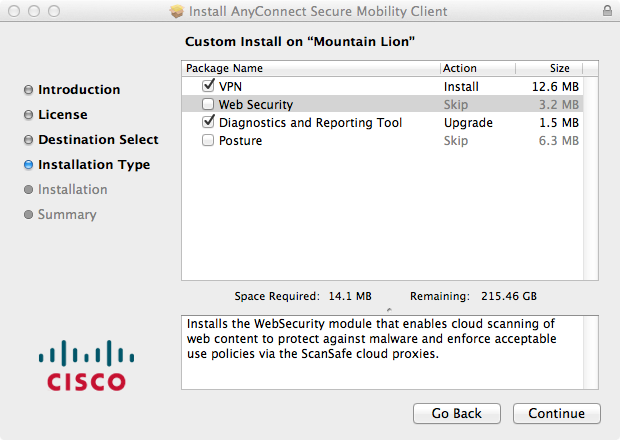 After installing the Cisco AnyConnect software you will find the application in Applications > Cisco > Cisco AnyConnect Secure Mobility Client  

 You will then be prompted for the VPN server address

Then you just need to enter your REMOTE ACCESS credentials.